Directions | Reviews | Hours | About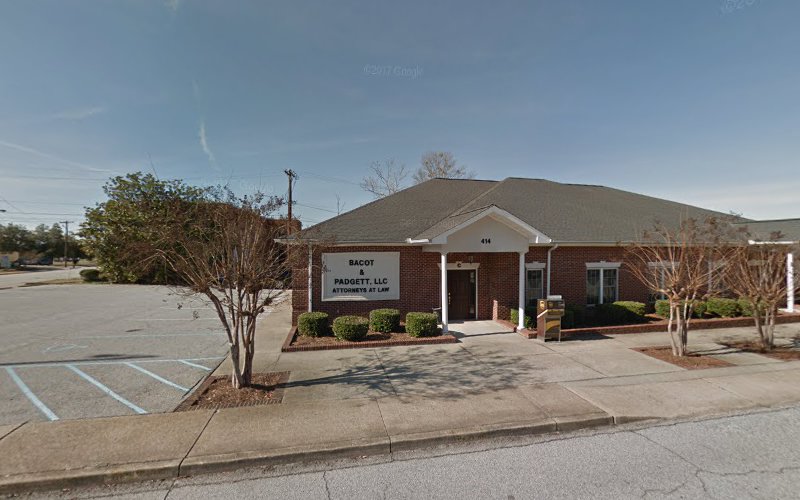 Bacot & Padgett, LLC in Greenwood, South Carolina
Bacot & Padgett, LLC is a Personal injury attorney in Greenwood, South Carolina
414 Monument St Ste C, Greenwood, SC 29646 (Directions)
☎️ +1 864-227-1570 (Call Now)
️ visit website
Bacot & Padgett, LLC Reviews in Greenwood, South Carolina
– 5 Star Reviews: 16
– 4 Star Reviews: 3
– 3 Star Reviews: 0
– 2 Star Reviews: 0
– 1 Star Reviews: 3
December 2021 by aretha chiles

The closing went fine, it was after closing that I became aware that a bill that they collected money for was not paid it's almost 30 days late and it still has not been paid, personally I will not do business with them again.

December 2021 by Eli Marner

If you want good advice and lawyers that are competent this is the place for you ..adam is#1

December 2021 by Craig "Cnice" Leverette

Always a good experience when closing real estate transactions.

December 2021 by Jameze Lee

Very rude and prejudice don't believe me call and see for yourself. That lady has no heart nor remorse on how she treats people that do not look like her. DO NOT waste your time or money with these type of people. Just plain ignorance for this " law firm ".

December 2021 by Ben Vereen

I bought a piece of property back in September... Bacot & Padgett made closing simple, easy, and fast. Highly recommended!
(see all reviews)
⏰ Bacot & Padgett, LLC Hours in Greenwood, South Carolina
Monday
Tuesday
Wednesday
Thursday
Friday
Saturday
Sunday
9 AM-5 PM
9 AM-5 PM
9 AM-5 PM
9 AM-5 PM
9 AM-5 PM
Closed
Closed
About Bacot & Padgett, LLC, Greenwood, South Carolina
Owner title: Bacot & Padgett, LLC
Bacot & Padgett, LLC features: Personal injury attorney, Divorce lawyer, Estate planning attorney, Family law attorney, Attorney, Real estate attorney, Service options: Online appointments: true, Onsite services: true, Accessibility: Wheelchair accessible entrance: true, Wheelchair accessible restroom: true, Amenities: Restroom: true, Planning: Appointment required: true, Appointments recommended: true
Description:
Area / Region: Greenwood, South Carolina
Longitude / Latitude: -82.1623836, 34.1895332 (Location)